I created this page so that I may share my
electronics
,
Raspberry Pi
,
Linux
,
Python
and
Java
projects with others. 
A panorama picture of my work area :-)
Most of these projects are dead, no longer have time to work on them as much as before.
I now do some smaller projects that I will not post on the website, but only on YouTube and on GitHub.
2017-08-09 Irrbloss 4G Rover


I have redesigned my Irrbloss 4G Rover, it is bigger and not as top heavy as the old one.
The camera is located slightly behind and quite high up on the rover to get a better view when driving.
This one is also more rigid and stronger.
2017-04-13 Irrbloss 4G Rover (Beta)
This is the first beta version ... i have a new bigger and better ...


This is my I have built a new rover, the last one (Squidscout) was to big, no fun working on it...

This new rover is small and weighs about 11kg with the batteries.

The base chassis is made from Servocity 6WD Mantis but with larger wheels. And it is reinforced to withstand the weight.

It is controlled by 4G or WiFi from a new control station.

So I can drive everywhere where there is 4G coverage.
2016-05-22 Squidscout

This is my new project Squidscout.
It is a 6wd rover with rocker suspension.
I did not like the skid steering from my last rover so this one can turn the front and rear wheels.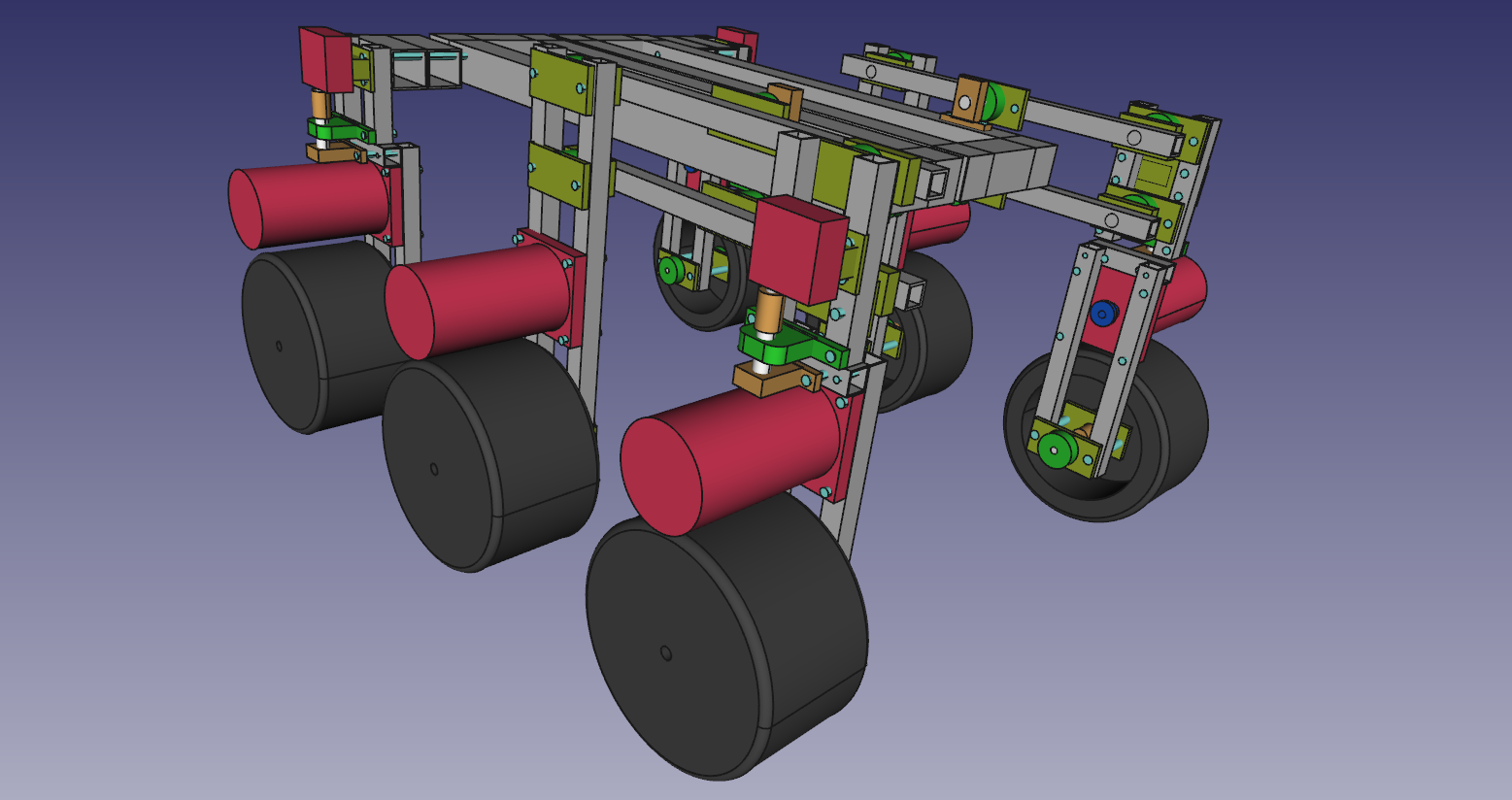 2016-04-25 FPV Squid Rover
My rover with 8 wheels :-)
It is controlled by my FPV Control Station.

2016-04-12 FPV Control Station

Built a new control station for my rover. 
It work with my old rover: 
FPV Rover
 but i work on a new rover with 8 wheels and suspension.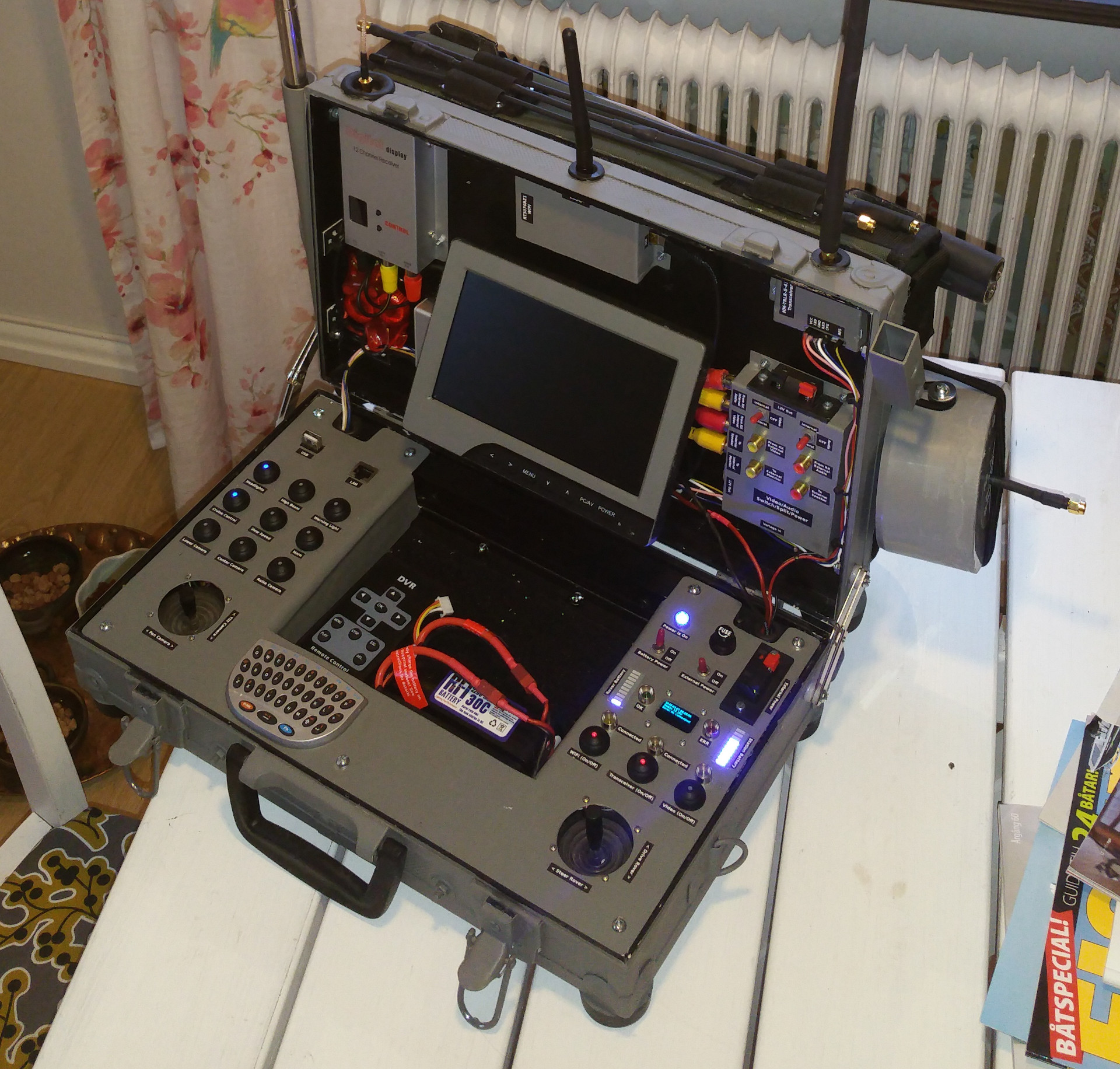 2016-02-27 FPV Rover

It has a 2.4GHz video transmitter and the video can tilt up/down and right/left.
I also made a remote control to host the screen for the video and the control buttons..
2016-02-08 NRF24 Rover

I wanted a rover with longer range (WIFI is to short).
In this robot the video and control signals is transferred by 
NRF24L01+
.
The video is very low resolution and frame-rate (320x240, about 1 frame a second).
And a also build a remote control with a 
Raspberry Pi 7" Touchscreen Display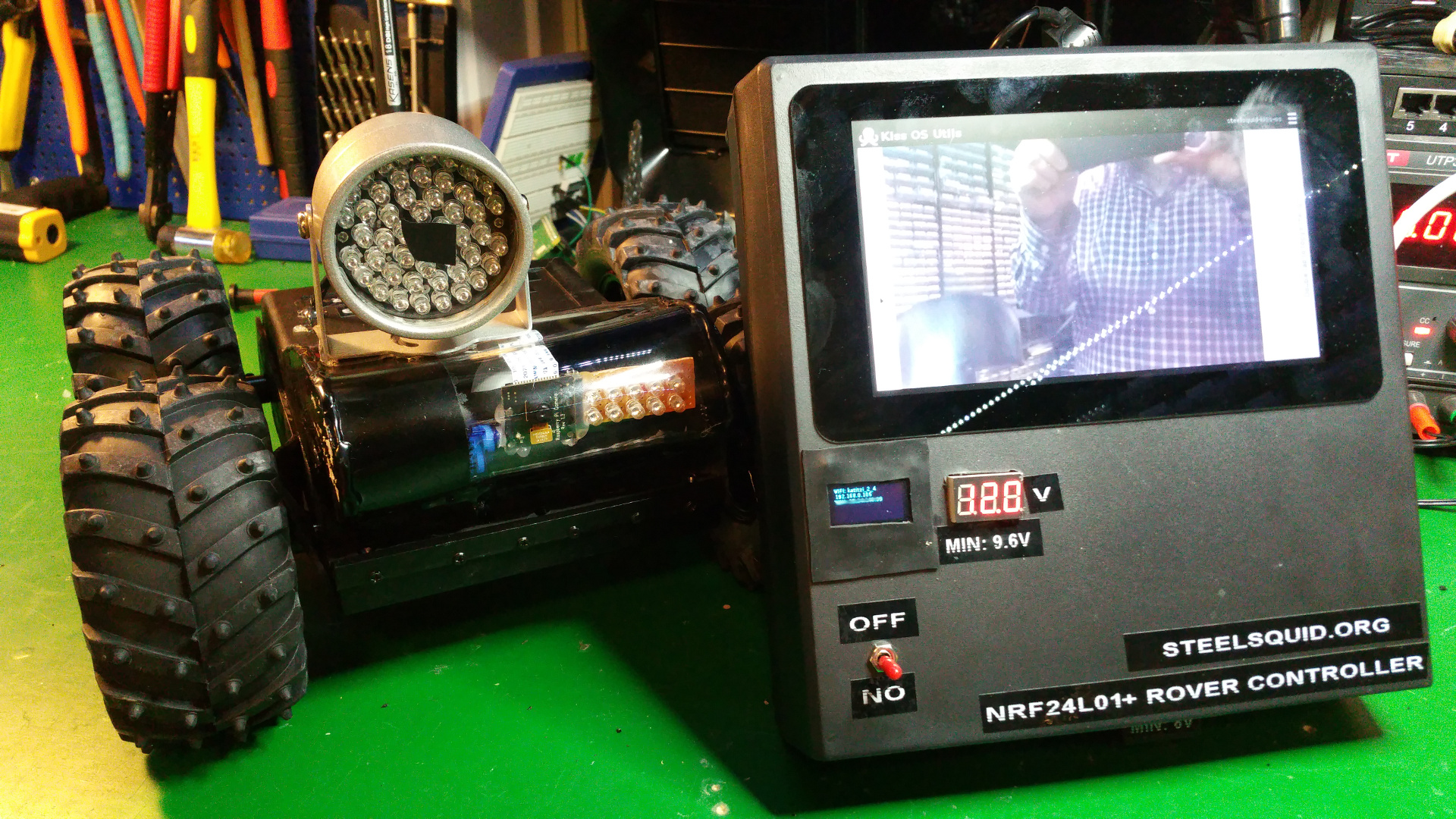 2016-01-27 Mini rover
This is my smallest robot 20x20cm and 9cm hight. 
You can control it via WIFI like the other robots but this also has 8 
HC-SR04
distance sensors.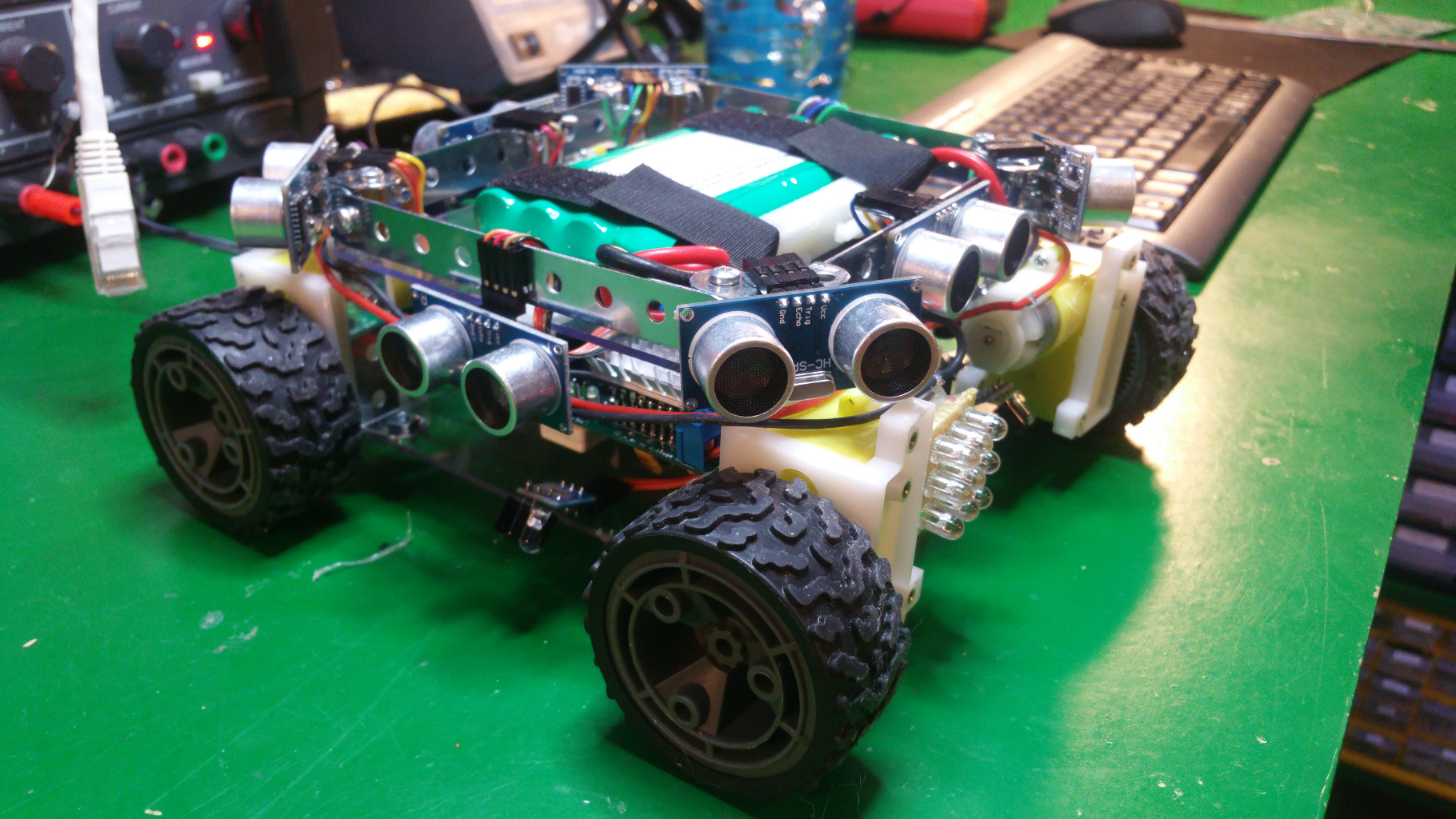 2016-01-23 Large rover

It is about 50x50cm with 20cm wheels and uses 
PiBorg Diable DC motor controller
.

It has the same control system as the 
Small Rover
 but it do not use the internal DC motor controller.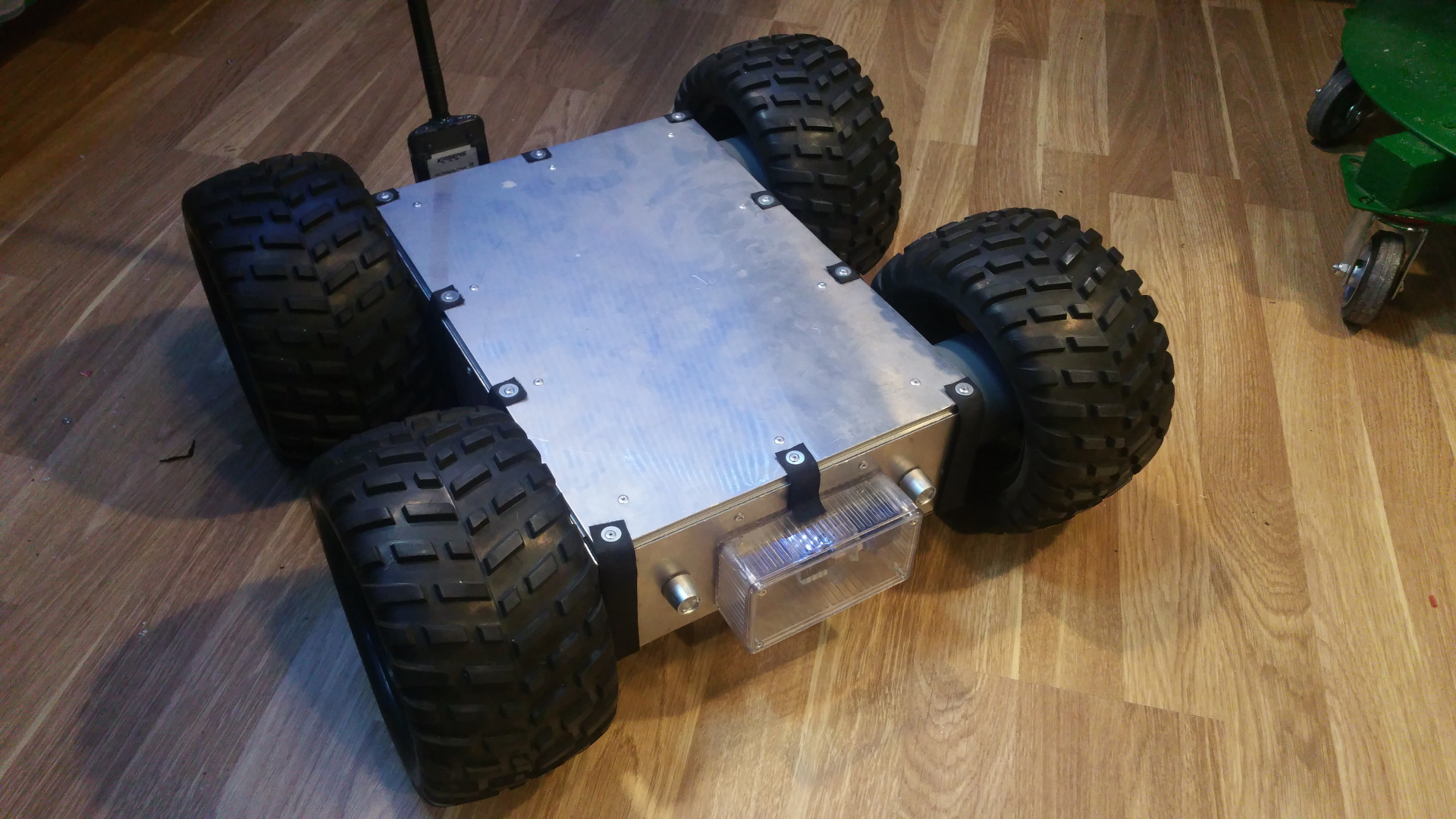 2016-01-14 Small Rover
Control it on a HTML5 webpage via WIFI.
Drag on the right side of the screen with your mouse or your finger to control the movement.
And drag up and down on the left side to tilt the camera.

Double tap on the screen to toggle the light.
2016-01-04 Steelsquid PIIO Board


My e

xpansion

 board for the Raspberry Pi is finally finish.
The board is 120x100mm and is connected to the Raspberry Pi with a female PIN header and two 18mm spacers.
It has DAC

,

ADC

,

PWM

,

Buttons

,

LED

,

LCD

, 

Accelerometer & Gyro
, 
Servo
,
DC motor controller
and more...
2016-01-03 Steelsquid Kiss OS
New version of Steelsquid Kiss OS (v1.1).
Switch ti Linux kernel 4.1
Super fast boot about 10 seconds.
Press the upper button to light one more LED until all lights.

Press the lower button to decrease the number of glowing LEDs.

The bottom LED should never be extinguished when you push down button.

I also want a simple WEB interface that also can control the LED bar in the same way.

And finally all LEDs should illuminate on network connected.

And no LED lit on network disconnect.

Flash all LEDs when there is a file in the /root directory named flash.
And then delete that file.

Remember number of lit LEDs from last time

And a parameter that say if Steelsquid Kiss OS is to enable all this
2015-12-17 Steelsquid Kiss OS
Finally a 1.0 version of Steelsquid Kiss OS.
Super easy to extend functionality...

And also a
windows EXE
for the synchronization script.

2015-10-25 Alarm/Surveillance
The Steelsquid Kiss OS Alarm/Surveillance functionality. 
Connect different sensors to monitor your house or other thinks.
Now also a
Android app
that automatically send arm/disarm to server...

Get the source code

Install Steelsquid KISS OS on the Raspberry PI

Automatic upload changes to Steelsquid Kiss OS

Add custom files

Make stuff execute on boot

Subscribe to built-in events

Make your own event

Built in webserver

Socket commands


Raspberry Pi GPIO

Combined Power on and Shutdown button

Test input (Connect button)

Test Output (Connect LED)

Connect LCD

PiBorg Diable DC motor controller

Connect HC-SR04 (Measure distance)

3v3 <-> 5v level converter

Connect ADC (Analog To Digital Converter)

SparkFun MCP4725 (Digital-to-Analog Convertor)

Proto Advantage MCP4728 (Digital-to-Analog Convertor)

MCP23017 I2C GPIO Expander

Adafruit 16-Channel Servo Driver (PCA9685)

Dagu T'Rex Robot/Motor Controller

Sabertooth dual 25A motor driver


You can easily configure

WIFI

and other stuff from

command line

and a

web interface

.

It contains no desktop environment.

Easy to extend functionality with python

Mount external drives (USB) automatically to /media

Mount SSH and windows network drive (smb)

Connect to a lot of IO hardware

Fast boot, a

bout 

10s

Low RAM usage (About 45 M)


2014-10-09 4WD Rover
Building a 4WD robot controlled from an Android app. 
Here is a short video, going to write a bit more about it later ...




2013-01-10 Steelsquidify
A Spotify audio playing device that can be controlled via Bluetooth from your Android phone.
The unit will act as a server so that different Bluetooth devices can connect and control it.
The server part running on Debian Linux. It is written in Python.