It is a
6wd
rover with
rocker suspension (
Rocker-Bogie
)
.
I did not like the skid steering from my last rover so this one can turn the front and rear wheels.
The last rover i built had no bearings so it was kind flimsy. So this one has bearings on all joints.
This page will be a work log for the build, think it will take pretty long time to complete...
1. Videos
2. Design
I want to make a more thoughtful design this time so I tried  
FreeCad
.
It was pretty simple to learn the basic functionality so i use it to design the chassi.
It is not a construction drawing, just a sketch so i can figure out where stuff should be...
Above is the front wheel arm. 
On my last rover the wheel was directly fixed to the motor and it could not handle the load. 
And because it stuck out so much it stuck in stuff.
I have change the motor placement, will have larger wheels and fit the motor inside the wheel.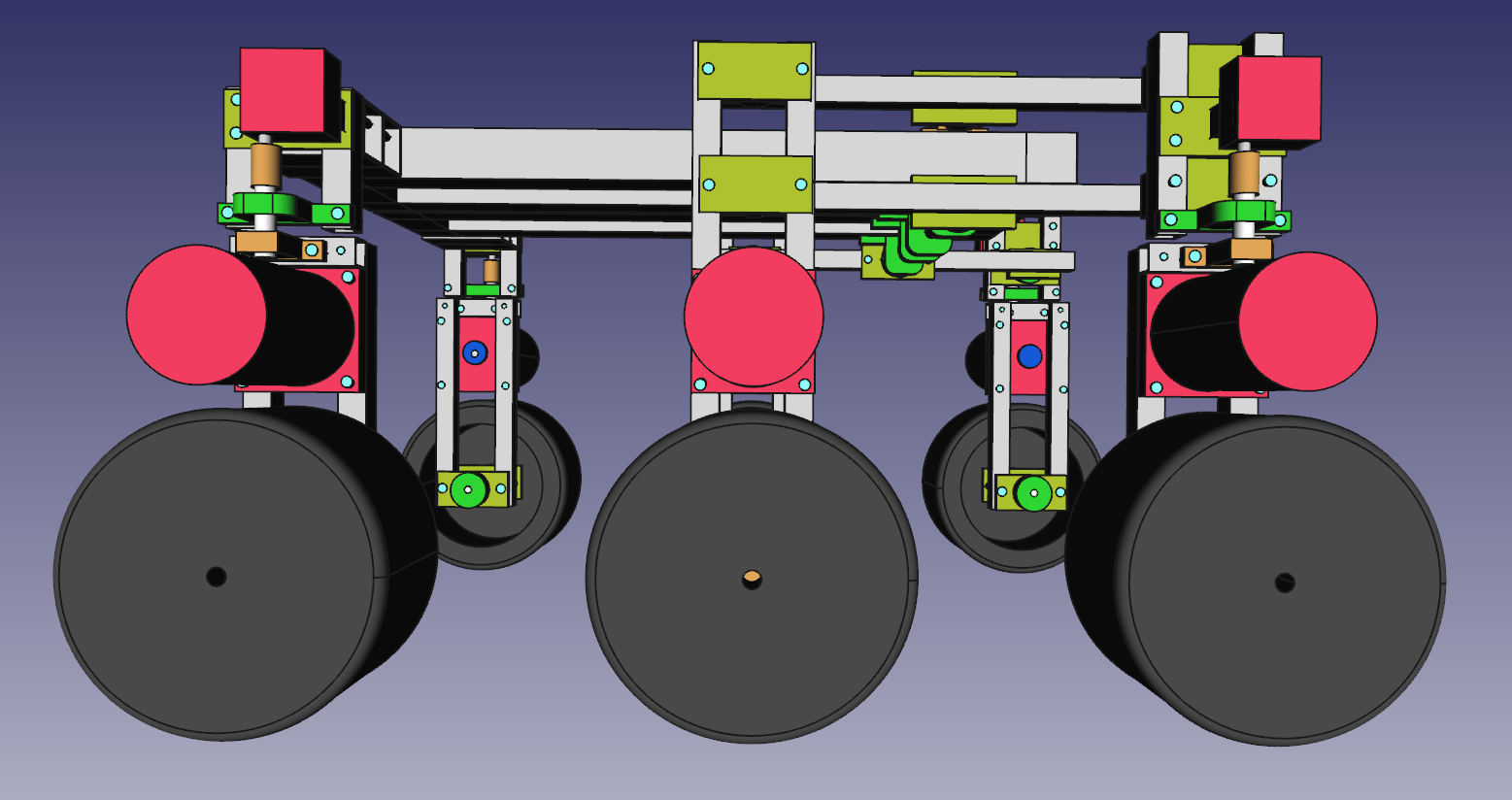 The front and the back wheels will have servos to control steering.
The middle wheels will not have an steering.
The 4 front wheel will have the rocker functionality and the 2 back wheel can move up and down separately.
3. Parts
A lot of the parts is on its way from china now...
This will be the most expensive part of the project ... 

£

45.60

 peice

 :-(

But if the motors is as good as the specifications say then it will be worth it.
60RPM 12V DC motors with Metal Gearbox and Metal Gears

Max. Efficiency Torque: 2.1 Nm

Stall Torque: 

11.9 Nm

No-load current: 

0.6 A

Stall current: 

11.4 A
5. Wheel rim
I have change the construction of the wheels, the motors will be inside the hub of the wheel.
And the wheels will be much bigger. On one side (outside) of the hub the motor is fitted and on the other side a shaft with bearing.


The hub is made out off two 

110 MM sewer pipe sleeves (i think its called...)


 

 




Riveted together the two sleeves


The rest of the hub, where the motor is to be i use a 

Telescopic Ventilation pipe

.

On one end of the outer pipe you need to sand it down or it will be hard to fit it on the sewer pipe.
6. Motor Mountings and wheel hub
8. Steering wheels
The front and back wheels have steering. This is the arm that connect to the wheel.


10. Back wheel link
11. Connect wheel/bogie and frame
Connect all the stuff.
12. Hybrid Common Choke
All electronics on this rover should have Hybrid Common Choke.

The Hybrid Common Choke i designed is probably totally overkill... they have both a common mode choke, differential mode choke and a lot of capacitors.
I designed three different types with the same base layout and components. 
Screw terminal
For easy connection of Power, GND and also extra connectors for example signals.

PTC fuse


Protect the 

circuit

 from over current.

Schottky diode
To keep the capacitor from discharging back into the source.
Capacitors
Decoupling (Like a extra battery on high loads and quick load changes)
From 1nF to 1000uF  (Probably overkill, but way not...)
Common mode shoke
Filter out common mode noise (Interference that appears on both signal leads (+ and -))
Differential mode shoke for +
Filter noise on the power line
Differential mode shoke for GND
Filter noise on the GND line.
This can cause problems so you can bypass them by solder on some places on the board...

My Hybrid Common Choke factory :-)
I have tested them with my small 

oscilloscope (DSO Nano) when i drive a DC-motor and they seem to work but someone who is better than me on electronic might have a different opinion :-)
Without the filter i get a lot of nose and when i add the filter much less nose, but a simple LC-filter might work just as well.



The three different types have the same base design but with various components to handle different loads and other stuff...
Max 2A filter
This i will use to filter the FPV equipment and other stuff that can get power directly from the batteries.
In the PCB layout bellow i do not have any fuse, but i have add a PTC that hold 1.85A and trip at 3.7A



Max 2A filter with 

Buck converter
Power the Raspberry pi and other stuff that must have lover voltage.
In the PCB layout bellow i do not have any fuse, but i have add a PTC that hold 1.85A and trip at 3.7A
It is also a extra 1000uF capacitor on the output of the buck converter that you dont see in this PCB layout below.



Max 8A filter
The DC motors need well regulated power and the LC-Filter will also reduce the interference from retching the rest of the system.
The PTC fuse will protect the motors from over current.
PTC fuse Hold: 5A  Trip: 10A

13. Power distribution board
I made my own power distribution board. Two screw terminals for power in and one for main power on/off.
It has 3.3V 5V and one more voltage...do not know what i will use it for now...
In the PCB layout bellow i do not have any PTC fuse on the buck converters, but i have add a PTC that hold 1.85A and trip at 3.7A on 3.3V, 5V and xV.
Two screw terminals for main power in
Main fuse (30A?)
Screw terminal for main power switch
Current sensor
Voltage sensor
Screw terminal and PINs for main power and GND
Hybrid Common Choke for buck converters

Filtered GND
PTC fuse on every buck converter (hold 1.6A and trip at 3.2A)
3.3V, 5V and one other voltage out.
ADC PO12  (Read current and voltage)
OLED LCD
Lot of I2C pins
Here is a short description how i made the PCB...
If you want more information on how tot do this...
First print out the layout on a photo paper for a inkjet printer.
Some papers do not work, but the one i found works great.
Roughen the copper side of the PCB steel wool.
Then place the paper with the ink down to the copper and iron on highest heat for about 5 minutes